Share
---
---
August 2014 | 432 pages | SAGE Response
With the growing body of knowledge on branding, there are now more facets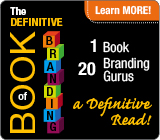 of branding that brand custodians need to know than ever before. A unique compilation of branding experts, The Definitive Book of Branding addresses the needs of branding professionals across the world.

The book walks the reader through the different ways in which brands drive the company's strategy, bring meaning to employees, instil passion in consumers, and maintain their appeal over time and across countries.

It does not look only at the marketing aspect of brands but also at the organizational aspects of branding, which provides a holistic approach to the subject.
List of Tables and Figures
Keith Weed
Foreword
Preface
I: BUILDING BLOCKS
Al Ries
The Essence of Positioning
Mark Batey
Creating Meaningful Brands: How Brands Evolve from Labels on Products to Icons of Meaning
II: FROM NICHE TO MAINSTREAM
John Simmons
The Power of Words and Stories
Douglas Atkin
All Together Now: The New and Vital Strategy of "Community"
Adam Morgan
What It Really Means to Be a Challenger in Today's World
Michael B Beverland
Building Brand Authenticity
Daryl Travis
The Most Important Brand Question: How Does It Make Them Feel?
Jean-Noel Kapferer
Brands and Innovation
Kartikeya Kompella
Branding with a Cause
III: BRANDING BEYOND MARKETING
Nicholas Ind
Living The Brand
Richard Mosley
Employer Brand Management
Sicco van Gelder
Global Branding: Strategy, Creativity, and Leadership
Jan Lindemann
Brand Valuation: Identifying and Measuring the Economic Value Creation of Brands
IV: TOGETHER WE STAND
Tom Blackett
Co-Branding
Clare Fuller and Arunima Kapoor
The Guide to Co-Creation
V: BUILDING BRANDS ON BELIEF
Patrick Hanlon
What Chatterjee Said: Designing Brands From The Inside Out
Helen Edwards & Derek Day
Passion Brands: The Extraordinary Power of Brand Belief
Kevin Roberts
Lovemarks in the Age of Now
Index
"This book provides an excellent and insightful set of chapters on how to build and manage brands by some of the best-known experts on the topic. A must read for brand builders!"
INSEAD Chair Professor, Marketing and Innovation
---
"The Definitive Book of Branding lives up its name with an absolutely all-star set of contributors who offer key branding insights and guidelines from their unique vantage points. You won't find a more valuable compendium on branding out there—this is definitely a book to buy and study!"
E.B. Osborn Professor of Marketing, Tuck School of Business
---
"The Definitive Book of Branding brings together the field's experts to provide a comprehensive, intelligent overview of the most important strategic and tactical elements of brand management. This book deconstructs the branding process to uncover the different ways in which brands drive the company's strategy, bring meaning to employees, instil passion in consumers, and maintain their appeal over time and across countries. For marketing and brand managers, The Definitive Book of Branding offers state-of-the-art frameworks and best-practice examples to hone their ability to build, understand, and develop brands. For managers in other functions, it illustrates how brands contribute to the company's profitability through the creation of value, both internally and externally. A definitive read!"
London Business School Term Associate Professor, Marketing
---
"Everything is branded whether a nation or a process and everything has a brand dimension to it whether it's retail policy toward return of merchandise or the look and feel of the brand website. The Definitive Book of Branding covers many extremely important aspects of branding. The authors are all experts on their respective topics and express their opinions with candor. The diversity of thoughts and opinions makes the book do what a collection should—provoke deep thinking on the subject. This book is a valuable resource for professionals and students."
Charles Edward Wilson Professor of Business Administration, Harvard Business School
---
"There has been rapid growth over the past two decades in the literature exploring the concept of branding. The Definitive Book of Branding is a great primer on the many different perspectives, approaches, and specialty areas that make up this vibrant field. It's rare to find this diversity of thought from top branding experts all in one place. This is a book that will be of value to both experienced professionals and scholars, as well as students or anyone who is curious about growing and protecting intangible assets like brands."
PhD Assistant Professor, College of Communication, DePaul University, USA, and co-author, The Power of Cult Branding
---
"In The Definitive Book of Branding, Kartikeya Kompella has succeeded in an impossible task: editing the 'ultimate' book on branding with great authors, be they professors or practitioners. I read it, loved it, and recommend it to all students, marketers, or advertisers interested in building, expanding, and developing brands."
---
"This book is a compilation of contributions from 18 different authors. As such it is inevitably something of a pot pourri. There are some famous and familiar names among the cast list of authors;some more venerable, others perhaps less known. The content is strong and engaging. The compilation structure allows the reader to 'dip in', and one is rewarded for doing so. So in truth this book is akin to a patchwork quilt: richly patterned, varied, and stimulating: in reading it you will be better informed and enlightened."
Group Chief Strategy Officer, Interbrand
---
"Kompella has marshaled an outstanding body of brand thought, both contemporary and timeless, paying into my own beliefs and prejudices. The thesis is that brands must be at and in the hearts of our organizations. Brands that keep winning are built to make the world a little better every day, built with clarity of purpose and authenticity behind causes which resonate. They create compelling connections and new perspectives which celebrate their unique brand distinctiveness through everything that they do, every day. This is in the face of two enormous challenges: firstly, most shopper decisions are unconscious and implicit, when forced to articulation they are often misleading, misconstrued, or misinterpreted. Secondly, in the age of real-time global social digital connection, the days of controlled brand ownership and confidentiality are over. It is only what we stand for, communicate, and deliver that counts. We had better do it better, faster, and more tenaciously than others. This book is a great starting point to understanding branding success today."
Vice President Equity and Communication, Global Chocolate, Mondele¯z International
---
"Look at the book and its scope and authors are impressive. You will benefit from the amazing scope of content, perspectives, and authors in The Definitive Book of Branding. There are original and useful ideas in every chapter."
Author of Brand Relevance: Making Competitors Irrelevant
---
"This is an important collection of thinking on branding. Kartik has assembled some of the best thinkers from around the world and the content speaks for itself. Highly recommended!"